AN APP EMPOWERING PEOPLE
TO GREEN THE URBAN LANDSCAPE
Today, nine in ten people around the world live in places where air quality exceeds WHO guideline limits causing more than 4 million deaths every year. As the world's urban population continues its rapid climb towards a share of 68 percent by 2050, the transformation towards inclusive, considered cities with minimum carbon footprints remains, without doubt, one of the greatest challenges of our time. The urban forests play a critical role in this but current replanting efforts in many cities are not happening fast enough. Wherever people have been given a voice in the planning of their city through measures such as participatory budgeting, there has been a clear call for greener surroundings. There is an urgent need for tech-based solutions which enable the co-creation of tomorrow's sustainable, green cities in the image of the people that inhabits them.
Wild Streets is a participatory urban greening project that taps into the building momentum of augmented reality and big data. The app will allow people to green their immediate surroundings and experience it in real-time. Wild Streets pushes the notion of what is possible in the world of city planning and citizens involvement in shaping the green cities of tomorrow—it offers an inclusive, fun and innovative approach to trigger a green makeover of the cityscape by infusing the public with a new sense of ownership of their city, whilst making it more sustainable and liveable.

EXPLORE THE FEATURES OF OUR ALGORITHM
Utilizing the revolutionizing possibilities of augmented reality technology, Wild Streets will enable users to decorate any street, public space or rooftop in real-time by simple drag'n'drop of 3D plants, trees and street fixtures to whatever surroundings they view through their mobile device. As our app will measure relative heights, depths, and distances, users will be faced by realistic limitations to where items can be placed. Ultimately, Wild Streets will allow users to stress-test and experience their own and others green augmented spaces.
Through close collaboration with experts in forestry, landscaping, and flora, the Wild Streets app will be powered by an extensive 3D vector database of trees and plants. Depending on their location, users will be presented with a considered selection of flora, reflecting local climate, and site-specific conditions. In addition, users will be able to filter their flora-selection according to identified environmental challenges. For example, if flooding is chosen as the key concern, then flora known to absorb stormwater will be highlighted, and if high air pollution levels are to be addressed, flora known to be effective carbon sinks will be presented. Once a user has finished a design, it can be experienced in real-time through the app with the options of seeing it in different seasons and through time, i.e. from first planted to end-of-life. Finally, the urban space is not complete without street fixtures such as benches and other recreational elements, the choices of which goes hand in hand with the green landscape.
From conversations with experts, companies, and organizations, we arrived at three essential "modes" for Wild Streets, each of which features different levels of information appropriate for specific target groups. Tapping into a smart learning system, the chosen mode will determine at what detail and in which way information about the social-ecological benefits will be presented as well as the estimated implications of the design's contribution to local environmental challenges, and cost implications. The learning system will be developed in close collaboration with stewardship experts, PR-professionals of mainstream brands with large audiences, and game specialists, who share a keen understanding of engagement but from different crucial angles.
The Citizen mode, which will target the general public, is Wild Streets' default user mode. With a dedicated focus on schools and parental learning, the Educational mode features a much higher level of information, yet formulated for a younger audience. The 'Planner' mode is the most advanced and is catering to foresters, landscapes, architects, developers or any other planner in need of detailed information about a prospect design.
Sharing of data and knowledge is key to Wild Street's concept. As users will sign up through social media profiles, and hence consent to share personal data with Wild Streets, as well as being encouraged to contribute with further information, we will be able to collect unique data connecting the profiles of different demographic groups with their preferences to their preferences to the green urban space. Wild Streets will feature an integrated sharing and voting system, enabling feedback from a large audience via social platforms. People's culture, nationality, their age, sex, and their social grouping, whether they have children or not – it all matters for what they want and need from their local neighborhood. Wild Streets will share this data on an aggregated level with urban planners, landscapers, architects, and developers so that they can design better green spaces. In this way, cities may avoid costly implementations of green spaces that end up going un-used or even abused if they do not meet local needs.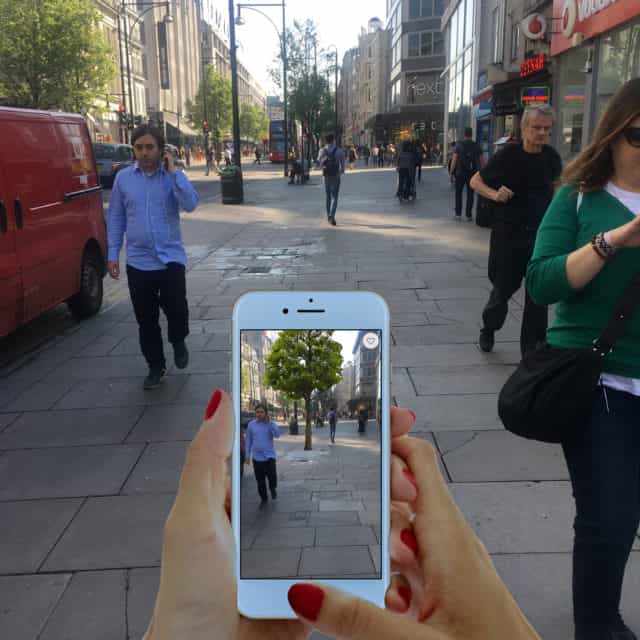 GREENER CITIES
The ultimate goal of Wild streets is to increase the number of trees and plants in urban areas in order to improve the lives of people and the health of ecosystems in cities around the world. More trees and plants mean cleaner air and water, cooler temperatures, more beautiful cities.
CO-CREATION
By making data transparent and available and providing a platform for designing features of the local environment, Wild Streets encourages participatory co-design of the urban fabric. Our app can open new pathways of communication between city planners and decision makers and citizens in order to move towards a smarter, more justly designed city-scape.
NATURE AWARENESS
In the process of designing new green infrastructure for their city, users will learn about the various benefits of nature in cities and even become familiar with specific species of local trees and plants. It is our hope that with this knowledge, users will become empowered supporters of thriving urban ecosystems.
THE POTENTIAL APPLICATIONS OF WILD STREETS MAKES IT AN INNOVATIVE PLATFORM FOR CO-CREATION OF THE CITYSCAPE
BIOPHILIC DESIGN
What if architects and developers could invite potential residents to pre-experience inside and outdoor projects?
RETAIL SECTOR
What if we could help retailers increase foot traffic by letting locals designing green, welcoming shopping streets?
HIGH STREETS
What if we give people a voice in the green design of high streets to make them less polluted, less stressful and more enjoyable?
RETHINKING UNUSED SIDE-STREETS
What if we could make nature easily accessible to absolutely everyone by letting locals design small parks and green passages on unused side streets?
REPURPOSING INFRASTRUCTURE
What if we could benefit from the creativity of people to repurpose unused or tired infrastructure for much needed green enclaves and passages?
TREE-LOVING NEIGHBORHOODS
What if we could encourage tree stewardship and neighborhood pride by letting residents test and vote on various submissions for local green landscapes?
FLOOD PRONE AREAS
What if we encourage residents of flood-prone areas to design green streets with water absorbing trees and plants?
INCLUSIVE PLANNING
What if we give disenfranchised groups the power to address local problems and make changes through the design of green enclaves in their own neighbourhood?
PUBLIC PATHS
What if we let bicyclists and pedestrians help with the design of the green, safe paths needed to encourage outdoor activity?
ENGAGEMENT
Wild Streets is inclusive by default. Through direct engagement in local communities in parallel to collaborations with influencers and experimental marketing, Wild Streets targets a large and diverse audience. We will work with local organizations and municipalities to make exciting campaigns and pop-up events in partnership with corporate sponsors. We will also partner with tech companies to set up screens on the street level, showing by-passers what a green version of the street right in front of them could look like, and encourage interaction. Together with developers and city-planners, we will create fun and engaging happenings spanning multiple days where citizens are invited to participate in the co-creation of specific areas.
A big part of our work will also be dedicated to collaborations with organizations focused on children's education in matters related to sustainability. Wild Streets will develop a dedicated user-mode of the app that will convey even more information that the default level to the benefit of educators.
JOIN OUR NETWORK
The first wild streets will come to
LONDON
WANT IN?
DONATE
Help bring Wild Streets to cities around
the world by supporting
the beta version of our app
DONATE NOW
Wild Street is made possible thanks to our endorsers and supporters who provide the necessary data and advice for the app's development and future roll-out.
ENDORSE US