IMAGINATION
& CO-DESIGN
GREEN YOUR CITY
An app for participatory
urban greening
Wild Streets brings together big data and computing power into a free augmented reality app that empowers people everywhere in making their cities greener, healthier, and more liveable.
Fun and accessible to everyone, the app enables people to green their surroundings in real-time with lush, beautiful 3D vector trees and plants. It drives co-creation by letting people reload and experience other's green design for a location. Wild Streets blurs the line between what is real in our cities and what could be by inviting people to green their streets, squares, bike paths, back alleys, rooftops, and every other little opportune corner.
By collecting users' social data, Wild Streets also bridges the gap between locals and those who design our public spaces and those who have the final say about their development. No more publicly-displayed still images showing picture-perfect renders of urban landscapes. Planners will be able to see what people really want – across genders, ages, ethnicity – and people will be able to take official proposals to the test in the real-time world.
We need green cities
In 2020, the world as we know it changed for most of us. It got a lot smaller in many ways, and we have been forced to interact differently with our surroundings. The quality of our neighborhoods, access to nature, and space sentiment have all proven to be critical factors to people's mental and physical health.
The covid crisis also amplified the reasons why the design of our cities is not fit to deal with what remains one of the greatest challenges of our time: climate change. With the world's urban population continuing its rapid climb towards a share of 68 percent by 2050, the transformation towards green, low-carbon cities is critical.
The urban forests play a pivotal role in this, but current replanting efforts in many cities are not happening fast enough. There is an urgent need for tech-based solutions, which enable the co-creation of tomorrow's sustainable, green cities in the image of the people that inhabits them and that supports the rising willingness and activism among citizens to help bring about this transition.

Facilitating Urban Greening
We're building a fun, engaging tool for the co-creation of purposeful, healthy green streets, and urban spaces that can be applied in every town and city in the world. Wild Streets aim to become the go-to solution – in both the public and private sector – for engagement campaigns related to the green placemaking of cities.
Empowering People
Wild Streets aims to give citizens a louder voice in the green urban planning process and become a new pathway of communication between designers, city planners and decision-makers. The app is inclusive by default, providing an accessible, informal tool for all segments of society across gender, age, ethnicity, income, education in the design of a more justly designed city-scape
Better Data, Better Cities
Wild Streets sets to inform the planning of better urban green infrastructure on a worldwide scale by sharing aggregated demographic data collected through the app cross-referenced with citizen's visual ideas. We wish to encourage the discovery and quality of data used for the Wild Streets indicators to promote the planting of location-optimized trees and plants everywhere.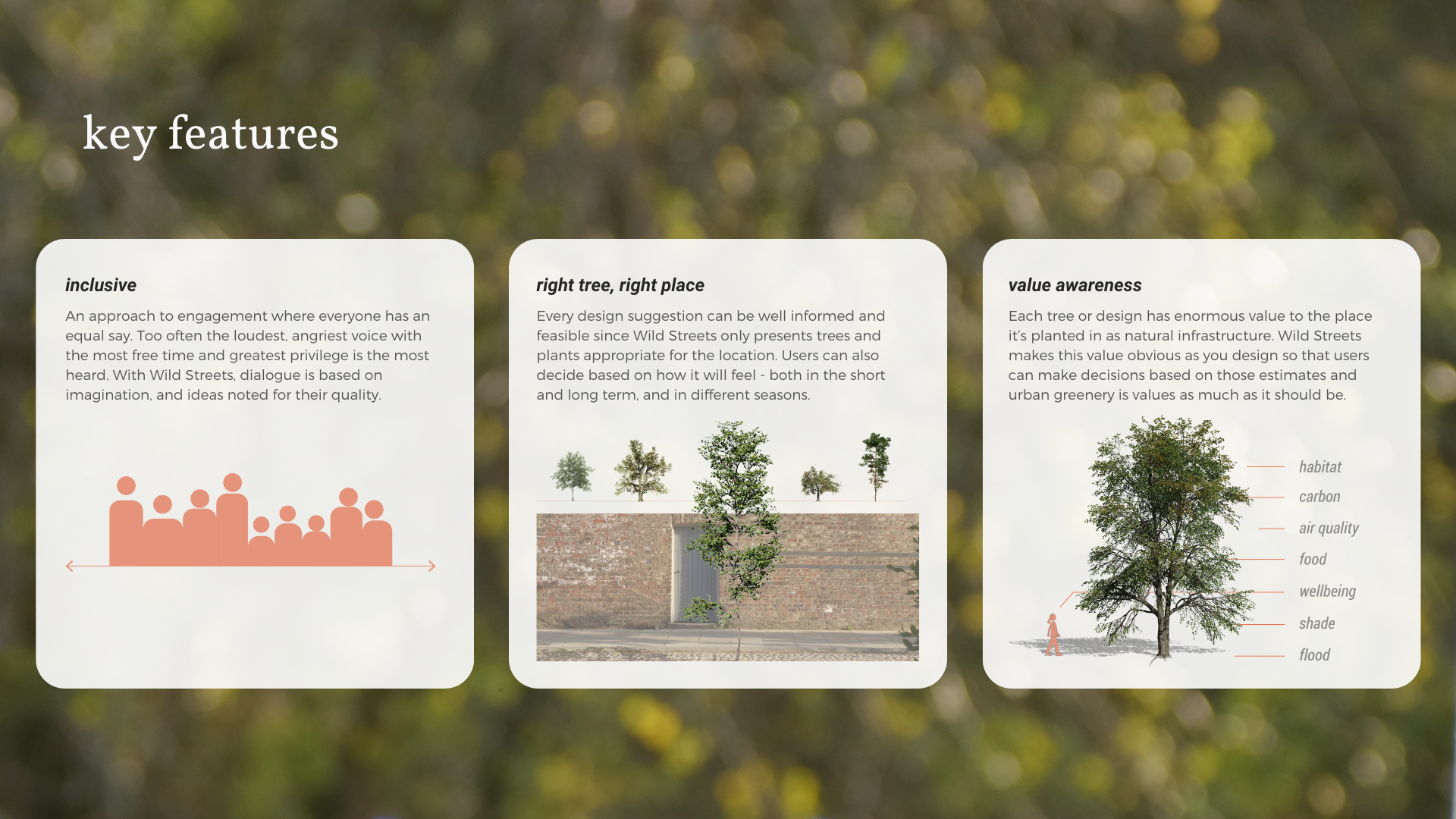 Wild Streets is made possible thanks to our endorsers and supporters who provide the necessary data and advice for the app's development and future roll-out.
They are wonderful people. Join them!